Careers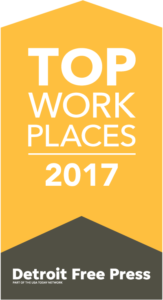 If you're interested in a team-based, collaborative work environment please consider joining us.
At Giffels Webster, we're an equal opportunity employer who looks for people focused on using their talents to improve quality of life, embrace the environment and deliver infrastructure with flexible, enduring value.
From planners, landscape architects and GIS experts to professional engineers and surveyors, each of us has a commitment to building better communities. Our people are at the top of their fields, working on projects that impact communities across the nation.
Great workplaces are a direct result of great people. We're thrilled to announce that we are among 2017 'Top Workplaces' by Detroit Free Press. We've been dedicated, as individuals and as a company, to building better versions of ourselves each day as we help build better communities. This inclusion as a 'Top Workplace' is a tribute to our hard-working team.